Making Food Safety Transportation Simple
Your Food Safety Transportation News & Updates!


Decoding FSMA & Sanitary Transport Rule:
Learn With Lindsay!
We asked Lindsay to explain to us, in real language, what this rule from FSMA actually means to businesses like yours:
Our company didn't become an early adopter to the new STF (Sanitary Transportation of Food) regulations, because of this we lost a contract with one of our shippers.
If we get on board with a food safety program now, will we meet the new FSMA requirements by the

April 6th

deadline?  We don't want to lose any more customers but we don't know where to start.
So what does this mean for your business? Let's ask the expert. 
Many of our customers shared the same concerns. Developing a Food Safety Program can be complex and time consuming.  Most transportation companies don't understand where to start, who to delegate this task to and how many resources will be required.  Here at Iron Apple we have taken all of the guess work and challenges out of the equation and have created a simplified solution.
There are less than 65 working days left until the FDA could take enforcement action if your company is not compliant with the new rules.  However, if you act now there is still enough time to get your company compliant before this deadline.
Let's refresh the basic requirements of the STF rule.
First is training. If your shipper has agreed that your company as a carrier is responsible for the sanitary transport of loads, then all carrier personnel need to be trained in sanitary transportation practices.  All of this training must be documented.
Secondly, transportation companies need to have a Food Safety Program that addresses transportation equipment. For example, sanitation and preventative maintenance procedures and records addresses transportation operations, including temperature monitoring, loading/unloading procedures and any other procedures during the transport of food.
This sounds like a lot of work to do
in 65 days
, but Iron Apple can create a plan of action for you.
Our training program
consists of three 20 minute videos, three quizzes and meets all of the STF requirements. The best part is, our training program is all done through e-learning, meaning your employees can log into our learning portal and can complete the training at their own pace and time.  Once complete a certificate is issued and your documentation requirement is also complete.
Our Food Safety Program
offers an integrated implementation guide so you can get your program implemented and up and running with ease. Iron Apple supplies all of the records and templates needed to have a compliant Food Safety Program, then you fill in the blanks to make them applicable to your company. With our simplified solution, you can spend less time developing and implementing a food safety program and more time on practicing the safe and sanitary transportation of food.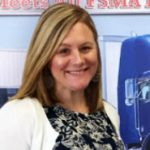 Lindsay Glass
Food Safety Training & Implementation Manager at
Iron Apple International
Lindsay holds a BSc in Applied Nutrition, with a concentration in Food Science, an former Food Processing Inspector for the CFIA (Canadian Food Inspection Agency).  She has a strong knowledge of Inspection Acts & Regulations, FSEP (Food Safety Enhancement Program) and HACCP (Hazard Analysis and Critical Control Points) System; 6 years' experience as a CFIA Food Processing Inspector.
Stay Current with Industry News!
[contact-form-7 id="2910″]