By now, you're probably wondering what you're supposed to do with all this information.
What should you do to protect your business?
How can you ensure your working relationships continue without interruption?
It's time to get your company certified, and you can trust Iron Apple to get you there.
We've got 3 options below for you – select the one that makes the most sense for your business.

We've developed an innovative food safety solution and we can have you certified in 4 easy steps. Our FSMA Compliance Program is designed for carriers, distribution and warehouse, whether you're a small or large trucking company, warehouse or food processor, we can keep your food, and your company, safe. Our digital platform will give you everything you need to protect your company, and we'll be here every step of the way to support you through this transition.
The Iron FSMA Compliance Training program for carriers, brokers and shippers consists of a 4 part eLearning solution, with videos, reference materials and short quizzes at the end of each module. At the end, you'll finish with a certificate of completion. The content of the course is suited for any person who is involved with the transportation of food throughout United States and Canada, which includes carriers, shippers, loaders and brokers.
Our training materials both meets and exceeds the FSMA and Sanitary Transport Rule training requirements. To learn more, view pricing and read some testimonials, click the link below.
Iron Apple's team of experts would be happy to connect with you, at no cost, to walk you through the full program and prepare a quote. We'll let you know what your options are, and create a solution that's customized to your business needs, and your budget. If you're not sure what your organization needs to become compliant, it's best to meet with someone who can look at your individual needs, and provide the best possible solution.
To arrange your complimentary in-person or telephone consultation or complete the brief form below and we will contact you.
Call Today! 1-844-485-3330
Or Complete the Form Below!
[dt_testimonials_carousel orderby="rand" dis_posts_total="" content_layout="layout_1″ content_alignment="center" img_max_width="80px" img_border_radius="500px" slides_on_desk="1″ slides_on_lapt="1″ slides_on_h_tabs="1″ post_title_bottom_margin="0px" content_bottom_margin="0px" arrow_bg_width="36x" arrow_border_width="0px" r_arrow_icon_paddings="0px 0px 0px 0px" r_arrow_v_offset="0px" l_arrow_icon_paddings="0px 0px 0px 0px" l_arrow_v_offset="0px" category=""]
Iron Apple Training Guarantee: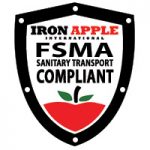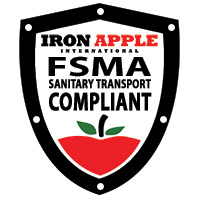 IRON

APPLE

FOOD SAFETY TRAINING PROGRAM MEETS FSMA REQUIREMENTS*
*Meets Training Requirements for the FSMA Sanitary Transportation of Human and Animal Food Rule.
[contact-form-7 id="6240″]