HOW BUSINESSES HAVE BEEN IMPACTED SINCE THE SANITARY TRANSPORTATION OF HUMAN AND ANIMAL FOOD ACT CAME INTO EFFECT
By Bridgette M. Blitch, Esq.[1]
Since the Sanitary Transportation of Human and Animal Food Act went into effect last year (the "Act"), shippers, loaders, receivers, and carriers have worked steadily to keep perishable foods safe in transit. The Act, as we know, outlines specific responsibilities to each party subject to the Act.

Among other things, Shippers must specify to carriers in writing all necessary sanitary specifications for the carrier's vehicle and transportation equipment. Shippers must also develop and implement written procedures to ensure that vehicles and equipment used in its transportation operations are in "appropriate sanitary condition for the transportation of food."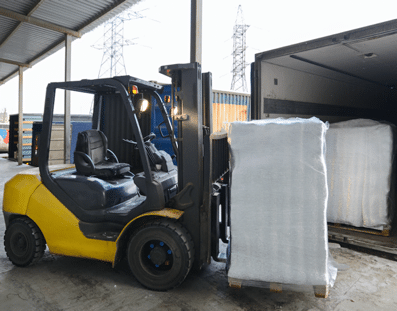 Before loading food that requires temperature controls for safety, Loaders must verify that each mechanically refrigerated cold storage compartment or container has been pre-cooled (if necessary) and prepared for the transport of food. Prior to loading, the loader must also ensure that the vehicle and equipment is in appropriate sanitary condition for the transport of food.
Receivers, upon receipt of food that requires temperature control for safety, must ensure that the food was not subjected to significant temperature abuse during transport.
Carriers must ensure that vehicles and transportation equipment are "appropriate to prevent food from becoming unsafe during the transportation operation." Carriers must also be able to offer specific information to shippers to confirm the safe transport of food (such as temperature control during transport). Carriers must develop and implement written procedures as to the carrier's safe practices regarding the transportation of food (such as the cleaning and sanitizing of vehicles and equipment).
—————–
[1]  Bridgette Blitch is a partner at Taylor & Associates, Attorneys at Law, PL. where she regularly counsels motor carriers (property and passengers carriers), brokers, shippers, warehouses, and insurance providers in matters related to the execution of transportation contracts, regulatory compliance issues, corporate structuring issues, management-side employment law, coverage issues and insurance defense.
FSMA SANITARY TRANSPORT COMPLIANCE TRAINING FOR CARRIERS, OWNER OPERATORS, SHIPPERS & BROKERS
AVAILABLE IN ENGLISH & SPANISH!
FSMA TRAINING FOR CARRIERS, BROKERS & SHIPPERS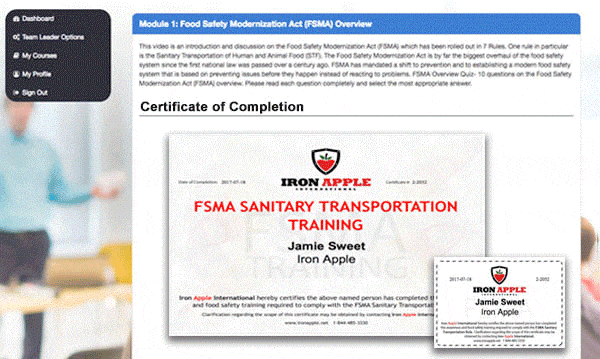 ⇒ Training program is available in English & Spanish.
⇒ Role specific content – food safety coordinator, safety personnel and driver.
⇒ eClassroom is mobile friendly, accessed through web browser from any device.  No need to download a 3rd party software to view content.
⇒ Training module content consists of text, visuals, video and voice over to help all learners get the most out of the training experience.
⇒ Real life scenarios and have actionable takeaway items throughout the content to increase user engagement.
⇒ Team leaders can track the progress of all users and can confirm when a user has completed the training even when they're on the road.
IRON APPLE "CORE" TEAM MEMBER SPOTLIGHT: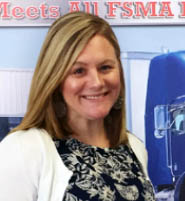 LINDSAY GLASS 
Training Manager & Food Safety Expert at Iron Apple
lglass@ironapple.net | 1-844-485-3330
Lindsay Glass holds a BSc in Applied Nutrition, with a concentration in Food Science, an former Food Processing Inspector for the CFIA (Canadian Food Inspection Agency).  Lindsay has a strong knowledge of Inspection Acts & Regulations, FSEP (Food Safety Enhancement Program) and HACCP (Hazard Anaylsis and Critical Control Points) System.
One of our in-house food safety experts and training manager.
Provides expert insight on the Iron Apple compliance program as well, guides customers through the implementation process.
Successfully educated and provided industry and other government departments' guidance and explanation on legislation, standards, procedures and policy requirements regarding food safety.
Previous 6 years' experience as a CFIA Food Processing Inspector.
2018 FOOD SHIPPERS OF AMERICA 63RD ANNUAL CONFERENCE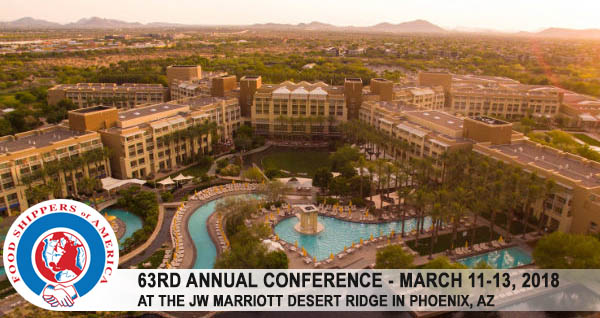 Iron Apple's Lindsay Glass, will be teaming up with Don Durm of PLM Trailer Leasing and Bridgette Blitch of JW Taylor & Associates to address the Food Safety Modernization Act (FSMA) and the Sanitary Transportation of Human and Animal Food rule (STAHF).

This all-star lineup will be diving into FSMA's Sanitary Transportation rule. The panelists will present what is being found in the marketplace regarding risks, compliance challenges and enforcement, training and how this rule is impacting not only shippers and receivers, but 3PLs, carriers and owner operators.
FEATURED IRON APPLE CUSTOMERS RECEIVING FSMA, HACCP & PREVENTIVE CONTROLS CERTIFICATION: