K-DAC Enterprises Receives Iron Apple Food Safety Certification Meeting FSMA & HACCP Compliance for Carriers
Iron Apple is pleased to announce that K-DAC Enterprises, based out of Baden ON, has successfully implemented the Iron Apple Food Safety Compliance Program, giving them an approved Food Safety Preventive Controls Plan (PCP) that includes all requirements for FSMA and HACCP when transporting food throughout North America.
The Iron Apple compliance and certification program allows companies transporting food or food ingredients to meet new food safety requirements for FSMA & HACCP. The new FMSA (Food Safety Modernization Act) Regulations went into effect on April 6, 2017 and impacts thousands of food shippers, brokers, and carriers throughout United States and Canada.  The content and government reference materials included in the Iron Apple Food Safety Program is recognized in both Canada and United States as an approved Preventive Controls Plan HACCP based food safety program for transportation and storage (warehouse).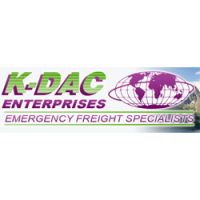 About K-DAC Enterprises. – www.k-dac.com
K-DAC brings everything to the table utilizing a combination of refrigerated and dry vehicles along with reliable, dedicated and professional drivers. Established in 1991 K-DAC, a family owned company, has become first in service and on-time delivery. With many long term customers, K-DAC offers a variety of services from LTL, TL and expedite services throughout North America and the USA.  K-DAC has the perfect combination of experienced, safe drivers and new reliable equipment to get the job done.  K-DAC Enterprises Inc. is comprised of three divisions: Expedite, Climate Control and Transportation & Logistics. All three divisions operate out of the same facility located in the village of Baden, Ontario, Canada which is 10 minutes west of Kitchener, Ontario and 1 hour west of Toronto, Ontario.