Everything Shippers, Brokers & Carriers Need to be FSMA Compliant: Self-Assessment Tool, Training & Solution

IRON APPLE MONTHLY NEWSLETTER: NOVEMBER EDITION
November has been another amazing month to be part of the transportation and logistics industry. We've seen many changes throughout the industry over the past few months from ELDs to Food Safety, with November not being an exception to that.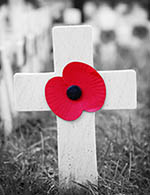 Another important day we shared this month, November 11 Remembrance Day & Veterans Day. We are honored to be carrying such a strong legacy of brave soldiers who are the real life heroes. Let us be proud of such an amazing history. It takes courage to keep the faith of the people alive and fight with courage for the people of the country. We are fortunate to live in a country where democracy, respect for human rights and the rule of law are fundamental principles. We are able to enjoy this incredible privilege because of the valour of those who answered the call to serve our country.
FEATURED IRON APPLE CUSTOMERS RECEIVING FSMA, HACCP & PREVENTIVE CONTROLS CERTIFICATION: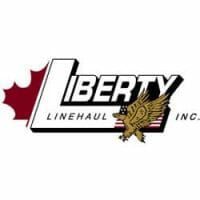 Congratulations to Liberty Linehaul Inc. on Their FSMA, HACCP & Preventive Controls Certification
We are an LTL and truckload carrier specializing in international freight between Canada and the United States. Blessed with some very long term loyal customers, we manage those relationships with a goal of giving customers more than they expect.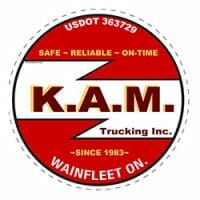 Congratulations to K.A.M. Trucking Inc. on Their FSMA, HACCP & Preventive Controls Certification
We are a family operation with a total of 30 years in business, and over 50 years of experience in transporting refrigerated and dry goods from Ontario Canada to the United States Eastern Seaboard. Specializing in providing trucking services between Southern Ontario and the five boroughs of New York City. Read More.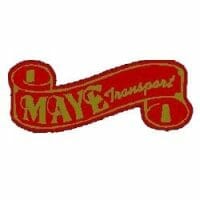 Congratulations to Maye Transport on Their FSMA, HACCP & Preventive Controls Certification
Iron Apple is pleased to announce that Maye Transport, based out of Gwillimbury ON, has successfully implemented the Iron Apple Food Safety Compliance Program that includes all requirements for FSMA and HACCP when transporting food throughout North America. Read More.
2018 FOOD SHIPPERS OF AMERICA 63RD ANNUAL CONFERENCE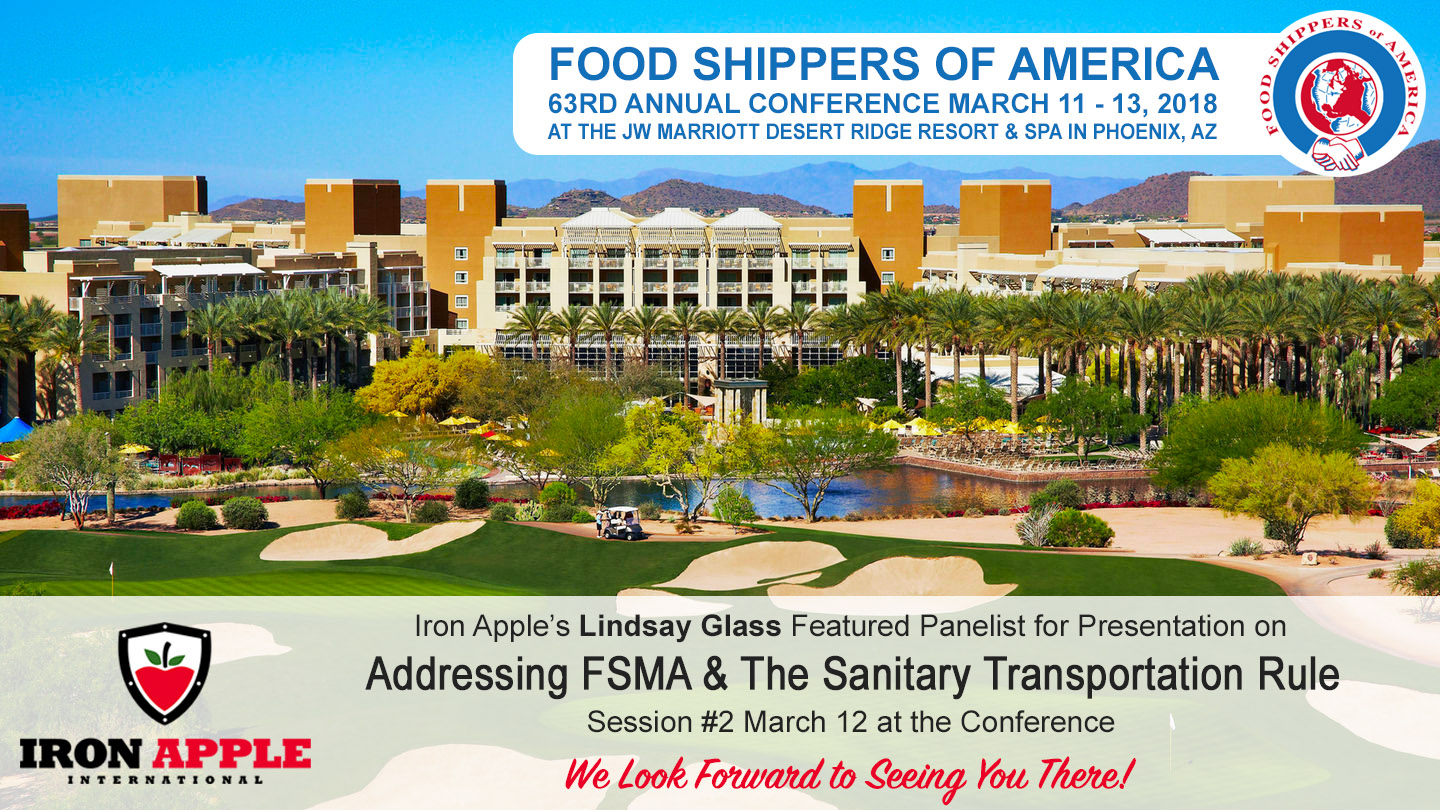 Iron Apple's Lindsay Glass, will be teaming up with Don Durm of PLM Trailer Leasing, Bridgette Blitch of JW Taylor & Associates and Erick Mann of Continental Mills to address the Food Safety Modernization Act (FSMA) and the Sanitary Transportation of Human and Animal Food rule (STAHF).

This all-star lineup will be diving into FSMA's Sanitary Transportation rule. The panelists will present what is being found in the marketplace regarding risks, compliance challenges and enforcement, training and how this rule is impacting not only shippers and receivers, but 3PLs, carriers and owner operators.
SANITARY TRANSPORTATION (STF) SELF-ASSESSMENT TOOL

ATA's Sanitary Transportation of Human and Animal Food (STF) Self-Assessment Tool, developed in partnership with American Frozen Food Institute (AFFI) and the Seneca Corporation, helps Brokers, Shippers, Carriers, Loaders and Receivers determine their readiness for implementation of the U.S. Food and Drug Administration's (FDA) STF final rule. Visit the website for more information: https://fsmatool.org/collections/ata
FEATURED PARTNER SPOTLIGHT: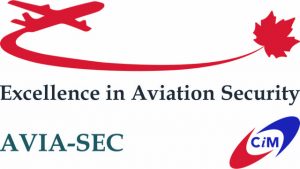 Compliance in Motion and Avia-Sec offering Air Cargo Program Solutions to the Trucking and Transport Industry
Compliance in Motion (CIM) and partner Avia-Sec are pleased to offer a complete suite of Air Cargo Security Solutions. If you're looking to either grow or better serve your existing client base, the Transport Canada: Air Cargo Security Program may be for you.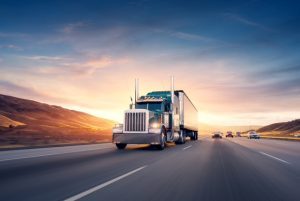 Over the past year we've helped numerous trucking and warehousing companies achieve their Federal approvals in order to transport and store secure cargo. As more producers and shippers join the program, Canada will need an increasing transportation network in order to accommodate the growing need to transport pre-screened cargo from suppliers to air carriers, nation-wide. We are a full-service provider, assisting our clients through all phases of participation; from initial approvals through to ongoing support and consulting. If you're already participating in the Transport Canada: Air Cargo Security Program, our comprehensive gap analysis will give you peace of mind prior to your federal audits.
The Transport Canada: Air Cargo Security Program is part of a global initiative led by the United Nations. Its goal is to ensure the safety of aircraft by having all cargo screened for improvised explosive devices, prior to upload to flight. Many shippers have sensitive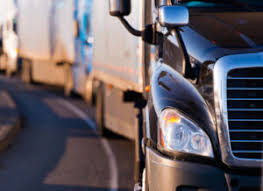 cargo, can't afford potential delays, and wish to avoid the fees incurred by having their cargo screened by a third party. They have joined the program and been approved to screen their cargo before sending it to the airport, where it's uploaded to flight. Because of this, they require reliable and secure trucking and warehousing. You can provide them that solution. Custom tailored and federally audited solutions from CIM will make your continued participation seamless and efficient, without costly disruption to your business. We are proud of the successes of our clients, and that they have achieved a 100% approval rate. Let us be your partner in air cargo security.
For more information on the Air Cargo Security Program or to become a participant, visit our website at 
www.cimcan.com
 or call us at 
(902) 407-2500
. We look forward to seeing how we can help.
TECHNOLOGY SURVEY – GATHERING & SHARING RESULT SUMMARY TO PARTICIPANTS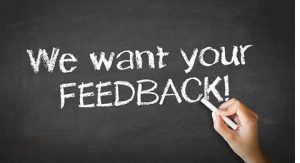 This is a brief survey of 7 questions on the technology used in your business and will take less than 3 minutes to complete.
The survey is voluntary.
Information is confidential.
Survey summary shared with participants.
HAS YOUR TEAM COMPLETED THEIR FSMA TRAINING YET?
WE CAN HELP!
ASK ABOUT OUR YEAR-END SPECIALS
FSMA TRAINING FOR CARRIERS, BROKERS & SHIPPERS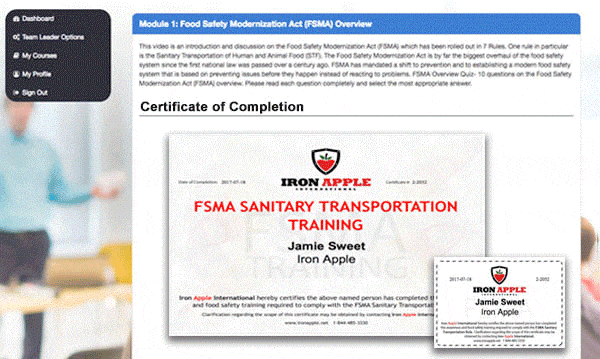 ⇒ Our training meets more than the minimum requirements.
⇒ Role specific content – food safety coordinator, safety personnel and driver.
⇒ eClassroom is mobile friendly, accessed through web browser from any device.  No need to download a 3rd party software to view content.
⇒ Training module content consists of text, visuals, video and voice over to help all learners get the most out of the training experience.
⇒ Real life scenarios and have actionable takeaway items throughout the content to increase user engagement.
⇒ Team leaders can track the progress of all users and can confirm when a user has completed the training even when they're on the road.