K.A.M. Trucking Inc. Receives Iron Apple Food Safety Certification Meeting FSMA & HACCP Compliance
Iron Apple is pleased to announce that K.A.M. Trucking Inc., based out of Wainfleet ON, has successfully implemented the Iron Apple Food Safety Compliance Program, giving them an approved Food Safety Preventive Controls Plan (PCP) that includes all requirements for FSMA and HACCP when transporting food throughout North America.
The Iron Apple compliance and certification program allows companies transporting food or food ingredients to meet new food safety requirements for FSMA & HACCP. The new FMSA (Food Safety Modernization Act) Regulations went into effect on April 6, 2017 and impacts thousands of food shippers, brokers, and carriers throughout United States and Canada. The content and government reference materials included in the Iron Apple Food Safety Program is recognized in both Canada and United States as an approved Preventive Controls Plan HACCP based food safety program for transportation and storage (warehouse).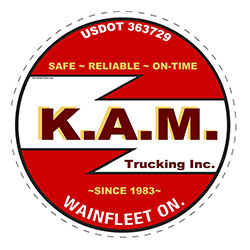 About K.A.M. Trucking Inc. – www.kamtrucking.com
We are a family operation with a total of 30 years in business, and over 50 years of experience in transporting refrigerated and dry goods from Ontario Canada to the United States Eastern Seaboard. Specializing in providing trucking services between Southern Ontario and the five boroughs of New York City. We provide daily temperature controlled Truck Load (TL) and Less than Truck Load (LTL) service to Brooklyn, the Bronx, Manhattan, Queens, Staten Island, as well as service to Long Island. We have both refrigerated and dry van trailers in the fleet depending upon your needs. K.A.M. is a licensed, insured, and bonded cross-border carrier. We maintain a fleet of late model tractors and trailers, and employ only well experienced personnel. We are not in the business of brokering freight. When you hire us, you can rest assured that it will be a "K.A.M." truck picking up and delivering your goods.