By now, you're probably wondering what you're supposed to do with all this information.
What should you do to protect your business?
How can you ensure your working relationships continue without interruption?
It's time to get your company certified, and you can trust Iron Apple to get you there.
We've got 3 options below for you – select the one that makes the most sense for your business.

We've developed an innovative food safety solution and we can have you certified in 4 easy steps. Our FSMA Compliance Program is designed for carriers, distribution and warehouse, whether you're a small or large trucking company, warehouse or food processor, we can keep your food, and your company, safe. Our digital platform will give you everything you need to protect your company, and we'll be here every step of the way to support you through this transition.
The Iron FSMA Compliance Training program for carriers, brokers and shippers consists of a 4 part eLearning solution, with videos, reference materials and short quizzes at the end of each module. At the end, you'll finish with a certificate of completion. The content of the course is suited for any person who is involved with the transportation of food throughout United States and Canada, which includes carriers, shippers, loaders and brokers.
Our training materials both meets and exceeds the FSMA and Sanitary Transport Rule training requirements. To learn more, view pricing and read some testimonials, click the link below.
Iron Apple's team of experts would be happy to connect with you, at no cost, to walk you through the full program and prepare a quote. We'll let you know what your options are, and create a solution that's customized to your business needs, and your budget. If you're not sure what your organization needs to become compliant, it's best to meet with someone who can look at your individual needs, and provide the best possible solution.
To arrange your complimentary in-person or telephone consultation or complete the brief form below and we will contact you.
Call Today! 1-844-485-3330
Or Complete the Form Below!
"Iron Apple is a very professional company, they have been around for a number of years and have a lot of expertise and experience. They have proven over the years that they are successful in what they do and Oceanex felt confident in choosing them for their food safety program." – Sharon | Oceanex
The largest benefit is the way the whole system works together, from the transportation SOPs to the food safety training to the workflow rules and activities; the roles are clearly defined, it's definitely the whole package. The web-based training component really streamlines all of our in-house processes, all of our staff can be easily trained…
Our experience has been wonderful so far, the support has been surprising, we've had a visit from an Iron Apple associate, which was very much appreciated as there is much work to do.  – Jill Maschmeier | National Carriers
National Carriers – Jill Maschmeier
National Carriers chose Iron Apple after doing much research into the FSMA regulations and other food safety, we felt that Iron Apple is definitely the leader in food safety, specifically for the transportation industry. – Jill Maschmeier | National Carriers
Right Service Right Choice – Shannon
"Having a pre-built Iron Apple program has really made the need to follow the FSMA/CFIA rules simple! They work very closely with us to ensure we are always compliant and the training resources they provide is exceptional." – Shannon | Right Service Right Choice (RSRC)
"The program [Iron Apple Food Safety Training for Carriers] is very helpful in the understanding of the rules and regulations for hauling food products safely." – Darren | D&D Sexton Inc.
Mortrans Truckload – Paul-Erik
"Iron Apple's Food Safety program provides great training and value to our company." – Paul-Erik | Mortrans Truckload
Liberty Linehaul Inc – Michelle
"I believe the training we received was fabulous and the trainers were very knowledgeable." – Michelle | Liberty Linehaul Inc.
"I believe training is always best with an instructor but if not available the on-line training is next best thing !! i also like no time limits, it takes some people longer to do things than others." – Christopher | D&D Sexton Inc.
"Yes, I would recommend to others [Iron Apple Training Program for Carriers] – easy to understand and comprehensive enough for what we were looking for." – Mike | SM Freight
Erb Enterprises Inc – Tom Boehler
I have recommended this program [Iron Apple Trucking Food Safety Program ] to two other companies we work with! – Tom Boehler | Erb Enterprises Inc
"I would recommend to others [Iron Apple Training Program for Carriers], especially since you are able to complete the training at your own pace and on our own time as opposed to having to get to a training location which is difficult to do in a timely and efficient manner." – Michael | D&D Sexton Inc.
"It [Iron Apple Food Safety Training for Carriers] was systematic, well structured and continually enforced prevention when handling food." – Bruce | D&D Sexton Inc.
Challenger Motor Freight Inc.
"Overall the training experience met our expectations and trainer's knowledge was excellent." – Mario Da Silva | Challenger Motor Freight Inc.
"Very Informative and very Interesting. I found that unlike some training sessions, time flew by with this one. The Instructor throws in some real life stories, which always keeps the audience interested and it puts the importance of the session in perspective. " – Gerry | Oceanex
"The Iron Apple platform (Compliance Solution) was very easy to use and is complete with all requirements and more. I started working on the program at the implementation phase but was helped thorough-out and was able to implement the program successfully." – France | GM Rioux (Gilbert M. Rioux & Fils Ltée)
"I learned a lot of valuable information that i didn't know." – Terry | D&D Sexton Inc.
Iron Apple Training Guarantee: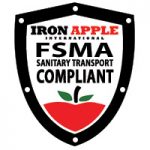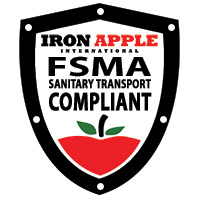 IRON

APPLE

FOOD SAFETY TRAINING PROGRAM MEETS FSMA REQUIREMENTS*
*Meets Training Requirements for the FSMA Sanitary Transportation of Human and Animal Food Rule.