Portage Transport Inc. Receives Iron Apple Food Safety Certification Meeting FSMA, HACCP and Preventive Controls Compliance
Iron Apple is pleased to announce that Portage Transport Inc., Portage la Prairie, MB has successfully implemented the Iron Apple Food Safety Compliance Program, giving them an approved Food Safety Preventive Controls Plan (PCP) that includes all requirements for FSMA and HACCP when transporting food throughout North America.
The Iron Apple compliance and certification program allows companies transporting food or food ingredients to meet new food safety requirements for FSMA & HACCP. The new FMSA (Food Safety Modernization Act) Regulations went into effect on April 6, 2017, and impacts thousands of food shippers, brokers, and carriers throughout the United States and Canada.  The content and government reference materials included in the Iron Apple Food Safety Program is recognized in both Canada and United States as an approved Preventive Controls Plan HACCP based food safety program for transportation and storage (warehouse).
For more information regarding the Iron Apple Food Safety Programs, please visit www.IronApple.net.
About Portage Transport Inc.  www.portagetransport.com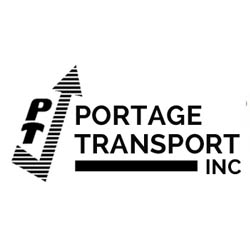 Head-quartered in Portage la Prairie, Manitoba, Portage Transport provides short-haul and long-haul carrier/freight services to companies throughout south central Manitoba. Serving both Canadian and US destinations, the company has a fleet of 103 trucks pulling 118 reefers and vans. Portage Transport is a U.S. and Canadian bonded carrier, specializing in LTL / FTL, temperature controlled and hazardous shipments. Striving to provide excellent service to its customers, create a balanced working environment for its employees, make a social difference locally and globally and be financially successful. Supporting our community and employees is paramount. We're proud to share our accomplishments and those of our drivers and owner/operators. You can count on Portage Transport Inc. to move your freight in a timely manner across the province or across North America.