Right Service Right Choice (RSRC) Receives Iron Apple Food Safety Certification Meeting FSMA & HACCP Compliance
Iron Apple is pleased to announce that Right Service Right Choice, based out of Mississauga, ON, has successfully implemented the Iron Apple Food Safety Compliance Program, giving them an approved Food Safety Preventive Controls Plan (PCP) that includes all requirements for FSMA and HACCP when transporting food throughout North America.
Having a pre-built Iron Apple program has really made the need to follow the FSMA/CFIA rules simple! They work very closely with us to ensure we are always compliant and the training resources they provide is exceptional ~Shannon Blakeley, General Manager – RSRC
The Iron Apple compliance and certification program allows companies transporting food or food ingredients to meet new food safety requirements for FSMA & HACCP. The new FMSA (Food Safety Modernization Act) Regulations went into effect on April 6, 2017 and impacts thousands of food shippers, brokers, and carriers throughout United States and Canada.  The content and government reference materials included in the Iron Apple Food Safety Program is recognized in both Canada and United States as an approved Preventive Controls Plan HACCP based food safety program for transportation and storage (warehouse).  
For more information regarding the Iron Apple Food Safety Programs, please visit www.IronApple.net.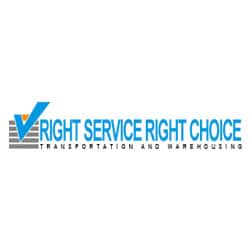 About Right Service Right Choice (RSRC) – www.rsrcexp.ca
We provide valuable transportation and logistics services to our customers throughout North America.  We've been crossing the border for many years and take the confusion out of the process. Transporting your cargo between Canada and the US is second nature to us.  We keep your freight safe by making sure our drivers operate modern, high-quality, well-maintained equipment. All our drivers are skilled in cross border transportation and capable of handling any problems that may occur along the way. Our cross-border services include:
LTL services
Truckload services
Dedicated services
Temperature controlled transport
Expedited services
Transportation of dangerous goods
Warehousing and cross-dock services
Emergency transport
Our proven track record gives us a competitive advantage. Each of our projects is managed by knowledgeable staff with years of experience. We provide expert advice for projects in different environments. Whether your assignment is big or small, we will manage it skillfully and successfully. We can move vehicles, people, and even animals to any destination in Canada, USA and some parts in Mexico.