Food Safety Solutions for Carriers, Brokers & Shippers | APRIL 2017
Making Food Transport Compliance Simple
Your Food Transportation Compliance News & Updates!
By effectively implementing the Iron Apple program, you will reduce the risks associated with transporting food which is supported by documentation and verification.

Decoding FSMA & Food Transport Compliance:

Learn With Lindsay!
FSMA SANITARY RULE REQUIREMENT:
> The Hidden Teeth Behind FSMA: Executives Risk Personal Liability for Food Safety Compliance –  Park Doctrine.
RESPONSE FROM LINDSAY:
>It is essential to be pro-active and have appropriate procedures, documents and teams in place to help protect everyone- the public, the company and yourselves. The Park Doctrine is a legal standing, which basically states that the FDA in conjunction with the Department of Justice (DOJ) can legally hold Owners, CEOs, or Senior management of companies liable if they are aware of a Food Safety issue.
If a Senior Executive, including Managers is aware of a condition where food products can be adulterated or a condition that could lead to the adulteration of food products and they do not ensure the issue is fixed or looked after in a timely manner, they can be held criminally responsible. For example, if an owner or a maintenance manager of a trucking company is aware there are trailers in the fleet that have deficiencies and therefore these trailers are not able to prevent food from becoming unsafe during transportation and does not deal with the deficiencies in an effective manner, they could be held criminally responsible for not following the regulations.
The Park Doctrine is the tool that allows the FDA to force industry to react in a more efficient and effective manner when it comes to non-compliances.
Lindsay Glass
Food Safety Training & Implementation Manager at Iron Apple International
In her previous role, Lindsay spent 6 years as a Food Processing Inspector for the CFIA (Canadian Food Inspection Agency). She has a strong knowledge of Inspection Acts & Regulations, FSEP (Food Safety Enhancement Program) and HACCP (Hazard Analysis and Critical Control Points) Systems.
*NEW Sanitary Transport Driver Training Module Now Available!
This module is specifically tailored to drivers for the safe handling of food during transport. We go into more detail in the areas that drivers see on a day to day basis, such as loading / unloading, temperature readings, maintenance and hygiene.
Get Your Drivers Certified in less than 30 Minutes!
Owner Operator FSMA & Food Transport Compliance:

FSMA Express is a cost effective and efficient food safety solution aimed entirely at Owner Operators to meet FSMA requirements.
Providing FSMA compliant forms/documents with a digital record keeping portal for quick and easy access of all documents. Also included is a 30 minute FSMA compliant training program (eLearning Solution included) that includes a certificate of completion to meet training. The combination of these elements provides a complete solution for Owner Operators to meet FSMA & Shipper requirements.  
Visit FSMA Express Website
National Carriers Inc, the First Food Carrier in the USA Certified for New FSMA Regulations!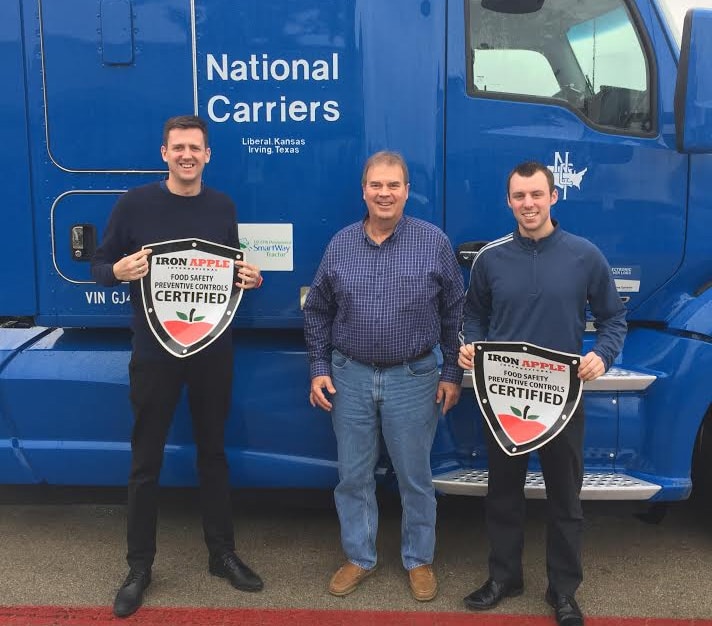 Iron Apple is pleased to confirm that National Carriers has recently met the Iron Apple Certification Requirements for FSMA – Food Safety Transport Regulations. The new FMSA Regulations went into effect on April 6, 2017 and impacted thousands of the food shippers, brokers, and carriers in the USA and Canada.
Third Party Certification ensures quality, operational improvements which leads to opportunities in seeking business growth and will strengthen your relationships with insurance companies and shippers.

Some of Our Newest Customers:
Implementing a framework of policies, procedures, documents and checklists to meet FSMA & Sanitary Transportation Rule.  Here are several of our newest customers who are implementing an Iron Apple solution into their business: