Iron Apple's Quality Assurance & Compliance Program for Warehouse, Storage, Private Fleet, and Distribution Meeting FSMA, HACCP, & Preventive Controls Plan Regulations
Your Complete Web-Based Quality Assurance Program Covering Your Warehouse, Private Fleet, and Distribution Center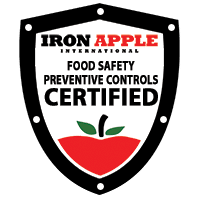 This program is designed for food grade warehouses and distribution companies who are looking to eliminate paper records, use mobile app technology to complete checklists, and alert management in realtime of any corrective actions. Many cold-storage and warehouse companies are choosing Iron Apple's software to improve their operational efficiencies and ensure they have an audit trail, whether they are utilizing our food safety plans or uploading their current food safety content!
Step-by-step instructions to implement your food safety program
All required forms, documents, procedures, policies, and training
Cloud-based retention tool to store all the records
Shareable web-based forms and documents
Support from our in-house food safety experts to assist in tailoring the program to meet your unique company needs.
If you already have a Paper-Based HACCP plan in place for your warehouse, we can migrate that into our web-based digital platform.

A Closer Look at the Iron Apple Quality Assurance Program for the Storage & Warehouse Industry
Our quality assurance program works across many different types of devices.  This is mainly limited to the type of role you are involved and the features available to your role.  We customize dashboards, tasks, and activities to each role, as well, optimizing the display and functionality you will see on your device.  For example, as an administrator of our program, they use a desktop friendly dashboard as there many controls and settings in which they need access.

Iron Apple's Quality Assurance Program for Warehouse, Storage, and Distribution - Main Features
All Required Forms & Documents
Standard operating procedures and industry best practices.
Digital forms, Shareable & Completed Online
Certified Food Safety Program; HACCP, Preventive Controls, FSMA
Daily, Weekly, Monthly, Yearly Reports
Program Reviewed Yearly by 3rd Party Auditing Partners
Quick & Easy Remote Access & Storage
Content Updated as New Food Safety Requirements are Available
Compliance Certificate Valid Throughout North America
Additional Modules for Private Fleets, Transporation, & Logistics
Additional Module Available for Truck Wash Facilities
Want to Learn More? Let's Connect
Are you looking for pricing?  Do you have questions we can help with?  Would you like to view a demo?  Let's connect to schedule a time that works best for you.