IRON APPLE RELEASES A TRAILER SANITIZATION & WASH PROGRAM MODULE FOR TANKS AND TRAILERS TO MEET FOOD SAFETY REQUIREMENTS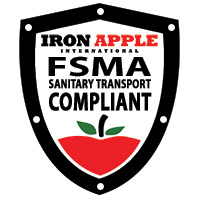 Iron Apple has released a new program module customized for shippers, carriers and trailer washout facilities.  The core of the program consists of web forms, standard operating procedures, assigned tasks, water testing requirements and checklists.  Any carrier who has their own food grade washout facilities or stand-alone washing facility can implement this program to meet requirements set out by the shipper, FSMA and HACCP.  Contact us at sales@ironapple.net for more information.
Iron Apple Speaking on FSMA for Carriers at the 2017 FTA Fall Round-Up in Jacksonville,

October 10 – 12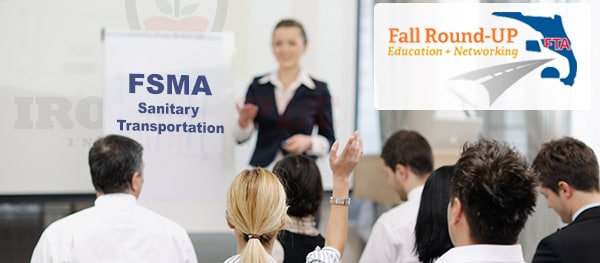 We are excited to announce that Iron Apple will be taking part in the Educational Sessions at the Florida Trucking Association (FTA) Fall Round-Up event being held in Jacksonville, FL on October 10 – 12. The topic of our session is the Food Safety Modernization Act (FSMA). We will be presenting this topic and focusing on the Sanitary Transportation of Human and Animal Food Rule (STHAF / STF) and how it affects brokers, carriers, shippers and distribution.
Congratulations to Sunbury/RST on Receiving Their Iron Apple Food Safety Certification Meeting FSMA & HACCP Compliance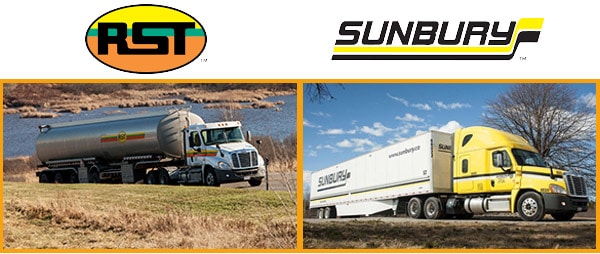 Iron Apple is pleased to announce that Sunbury/RST Transport has successfully implemented the Iron Apple Food Safety Compliance Program, giving them an approved Food Safety Preventive Controls Plan (PCP).  Sunbury is a premier transportation company, specializing in U.S. and Canadian cross-border shipments and offering full service logistics services throughout North America.  RST is an innovative and highly responsive transportation solutions provider, ready to tackle your biggest challenge and provide you with the best value. We specialize in tank operations, building a rock-solid reputation with best in class people and service. Our team is ready when you are.

Channel Partner Spotlight:
Introducing Fleet Complete – a solution for accurate temperature data management
If you are transporting goods that need to be kept at a certain temperature, it can be tough to maintain oversight and control over every degree. Fleet Complete is a global telecommunications carrier partner providing IoT solutions for fleet, asset and mobile workforce management to over 8,000 customers worldwide. The Fleet Complete IoT platform is a unique telematics umbrella that covers all of your fleet management needs.  Protecting your shipments has never been easier.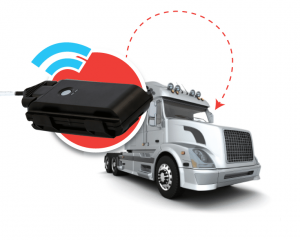 With Fleet Complete you can:
Track the temperatures of your food produces, livestock, pharmaceuticals, or anything that is sensitive to heat or cold – right from your desktop.
Prove your transportation meets all safety and regulatory guidelines by providing accurate ratings of temperature data management.
•Ensure that your cargo is in prime condition by receiving alerts when temperatures drop or spike while in transit.
Find out how Fleet Complete can help your business!
Several of Our Newest Clients from FSMA Training to FSMA Compliance Programs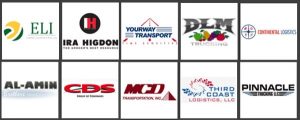 Looking for Driver Specific FSMA Training? We Can Help!
Our training meets more than the minimum requirements and does not require any additional training.
The content is designed for everyone in the transportation industry from food safety coordinator, dispatch, safety personnel and driver.
The Iron Apple Training portal can be accessed on any computer or mobile device. Plus you don't need to download a 3rd party software to view content.
Our training modules have incorporated text, visuals and voice over to help all learners get the most out of the training experience.
We use real life scenarios and have actionable takeaway items throughout the content to increase user engagement.
Team leaders can track the progress of all users and can confirm when a user has completed the training even when they're on the road.