Donnelly Farms Ltd. Receives Iron Apple Food Safety Certification Meeting FSMA, HACCP, and Preventive Controls Compliance
Iron Apple is pleased to announce that Donnelly Farms Ltd, headquartered in Lansdowne, NB has successfully implemented the Iron Apple Food Safety Compliance Program, giving them an approved Food Safety Preventive Controls Plan (PCP) that includes all requirements for FSMA and HACCP when transporting food throughout North America.
The Iron Apple compliance and certification program allows companies transporting food or food ingredients to meet new food safety requirements for FSMA & HACCP. The new FMSA (Food Safety Modernization Act) Regulations went into effect on April 6, 2017, and impacts thousands of food shippers, brokers, and carriers throughout the United States and Canada.  The content and government reference materials included in the Iron Apple Food Safety Program is recognized in both Canada and United States as an approved Preventive Controls Plan HACCP based food safety program for transportation and storage (warehouse).
For more information regarding the Iron Apple Food Safety Programs, please visit www.IronApple.net.
About Donnelly Farms Ltd.  www.donnellyfarms.com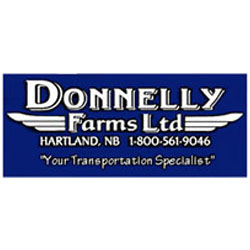 Donnelly Farms Ltd., a family-owned and operated business with qualified, professional staff, is dedicated to serving the transportation needs of our many customers.  We have been in business since 1979, providing refrigerated freight services across Canada and the United States. Our equipment is up to date and well maintained in our own Wash Bay & Shop Facilities, helping to prevent time lost due to equipment failure. We also have 3200 square feet of dry warehouse facilities to store/transfer product, if needed.  We provide temperature controlled and dry van delivery services nation-wide throughout Canada and the United States with a fleet of 54 trucks, 60 fifty-three foot air-ride reefers and 5 dry vans.