About Iron Apple International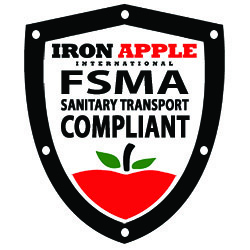 Iron Apple International is a leading supplier of professional food safety solutions to companies involved in the transportation of food products throughout North America. They are the first firm to develop a national Preventive Controls / HACCP program for distribution centers and warehouses. The Food Safety Solution that simplified compliance with these new Canadian and US regulations has been developed and tested over the past three years.
Our Food Safety FSMA & HACCP Compliance Solution:
The content of our program meets all government requirements for both United States and Canada. With our program, getting certified is easy:
We provide transportation based food safety training.
Following the step by step guide to implementing required forms and documents.
Once set up and running, receive your Iron Apple Food Safety Certificate of Compliance.
Many carriers who are transporting any type of refrigerated and/or bulk foods are implementing our solution to help mitigate risk and liability. As well, our program helps improve the quality of their service to their shippers!  Click here to learn more about the Iron Apple Food Safety Solution.
Our Food Safety FSMA Compliance Training:
Our Food Safety Training for Carriers Program consists of a 4 part e-learning solution, with videos, reference materials and short quizzes after each area, along with a certificate of completion. Our training materials meet and exceed the FSMA and Sanitary Transport Rule training requirements. The content of the course is suited for any person who is involved with the transportation of food throughout the United States and Canada, carriers, shippers, and brokers. Click here to learn more about the Iron Apple Food Safety Training Program.
Iron Apple History & Mission

Our Mission
To be the leading supplier of professional food safety solutions and support to companies involved in the production, logistics and transportation of food and ingredients throughout North America. We will accomplish this by understanding our customers' needs, retain industry experts to provide expert advice and to provide cost effective, practical solutions with the use of technology.
Iron Apple Featured Partners & Industry Associations
The Featured Partner Program at Iron Apple International, gives us the opportunity to work with companies, groups, corporations and governments at all levels, world-wide, to offer our clients the best possible solution.  Partnerships are important to us, as they are the means to achieving greater outcomes and providing reciprocated value for everyone involved.  We are proud to be working with a variety of partners that can support our clients.  If you are interested in becoming a partner with us, please contact us.